Confined Feeding Operations
Confined Feeding Operations
The Agricultural Operation Practices Act
The Agricultural Operation Practices Act (AOPA) became effective January 1, 2002. The act gives the Natural Resources Conservation Board (NRCB) the authority for regulating confined feeding operations and manure. The act is the responsibility of Agriculture and Forestry.
Confined Feeding Definition
The AOPA defines Confined Feeding Operation as an activity on land that is fenced or enclosed or within buildings where livestock are confined for the purpose of growing, sustaining, finishing or breeding by means other than grazing, but does not include seasonal feeding and bedding sites.
For information on threshold numbers, manure management practices, applications and complaints contact the
Natural Resources Conservation Board
.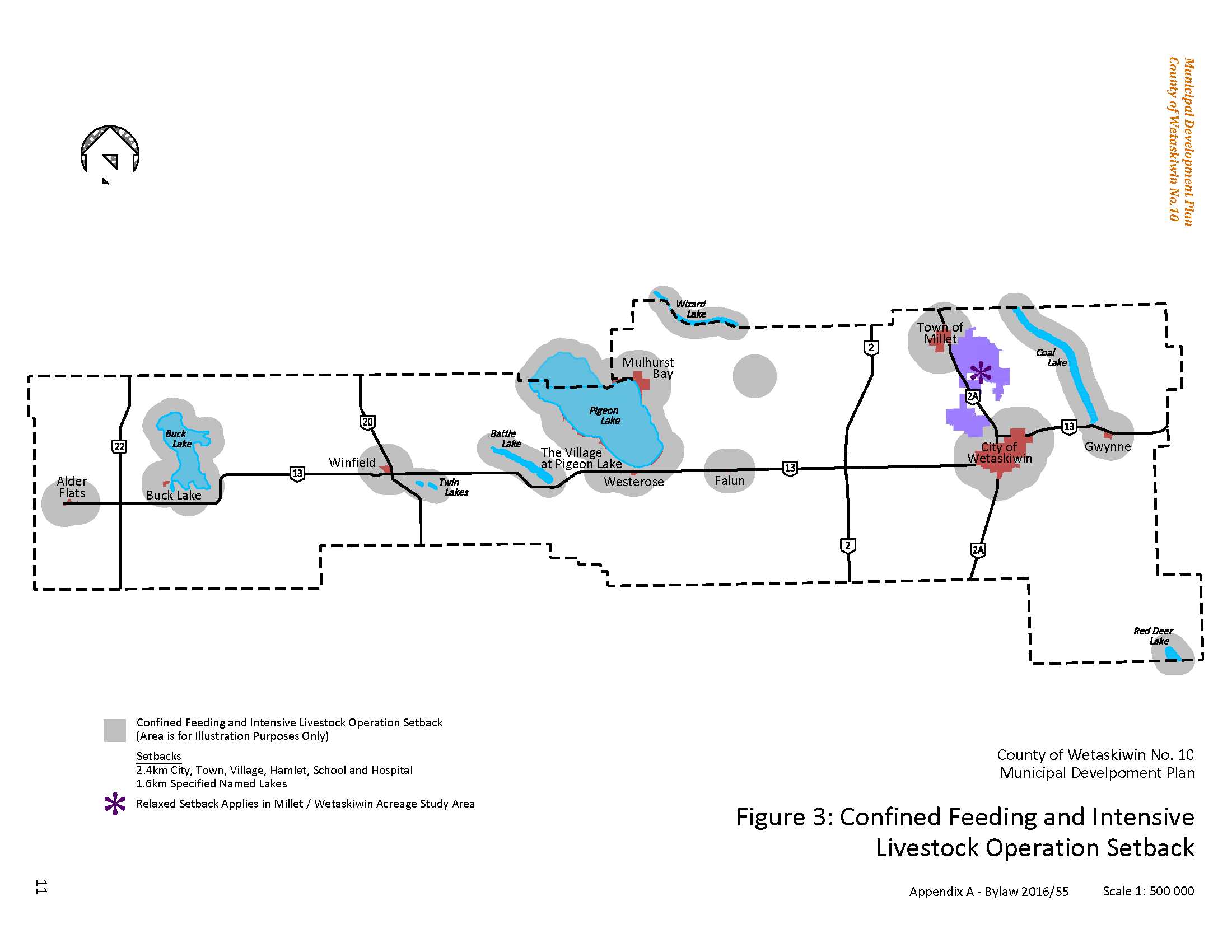 Municipal Development Plan Objective 1.4
Minimize the land use conflict with Confined Feeding Operations and surrounding land uses.
While the Confined Feeding Operations are under Provincial jurisdiction, it is the County's intent that any negative effect from the Confined Feeding Operation should be minimized. The Municipal Government Act requires the municipality to identify where new Confined Feeding Operations should locate.
An Intensive Livestock Operation is a Confined Feeding Operation that is smaller than the threshold size that falls under Provincial jurisdiction, as determined by the Provincial guideline.
1.4.1 The minimum distance setback of Alberta Agriculture Code of Practice, as amended, should be maintained.
1.4.2 For an Intensive Livestock Operation, the Minimum Distance Separation is determined by using the threshold level of the animal or the combined effects of the different kind of animals that are kept on one premise.
1.4.3 Any size of new Confined Feeding Operation (including Intensive Livestock Operation) must not locate within the following setback distances as illustrated in Figure 3.
a) 2.4km (1.5 miles) from the boundary of any city, town, village, hamlet, and school and hospital.
b) Under no circumstances can a new CFO be located within 1.6km (1 mile) of the following named lakes: Battle Lake, Buck Lake, Coal Lake, Pigeon Lake, Red Deer Lake, Wizard Lake and Twin Lakes.
c) All other unspecified environmental features, including but not limited to lakes not specified in (b), wetlands, and watercourses shall have setbacks in accordance with Alberta Operation Practices Act and Regulations (AOPA) as amended.
1.4.4 A new residence is not permitted within the Minimum Distance Separation of an existing Confined Feeding Operation/Intensive Livestock Operation, unless the residence is associated with the operation.
1.4.5 Within the Millet-Wetaskiwin Acreage Study Area, the setback distance outlined in 1.4.4 may be relaxed by up to 25% of the minimum distance separation required by Alberta Agricultural Code of Practice.